Currently, all growing businesses are dealing with transitions from on-premises infrastructures to multi-cloud, hybrid cloud, or both. From a strategic perspective, the decisions made referring to this significant technology shift will impact your company for the next decade.
Whether you are looking to move one workload or shutdown an entire data center, the transformation is complex and brings in many difficult decisions that influence key company processes. Successful cloud migration must rely on an in-depth analysis and high-level expertise.
In this review we answer some of the most important questions that our clients have asked during their cloud journey.
Lingaro's Approach to Cloud Transformation Projects
Lingaro offers transformative cloud solutions with a wide technology span and customized project approach. We support every strategy to leverage cloud services from inception and assessment to implementation and maintenance. We run cloud adoption projects on both project and organization levels.
Together with the clients, we discover main KPIs of decisive stakeholders and identify current inventory and plan the change across all axes. Our clients decide whether to go slowly, step-by-step, or with a more top-down approach to benefit from everything that various cloud service providers have to offer.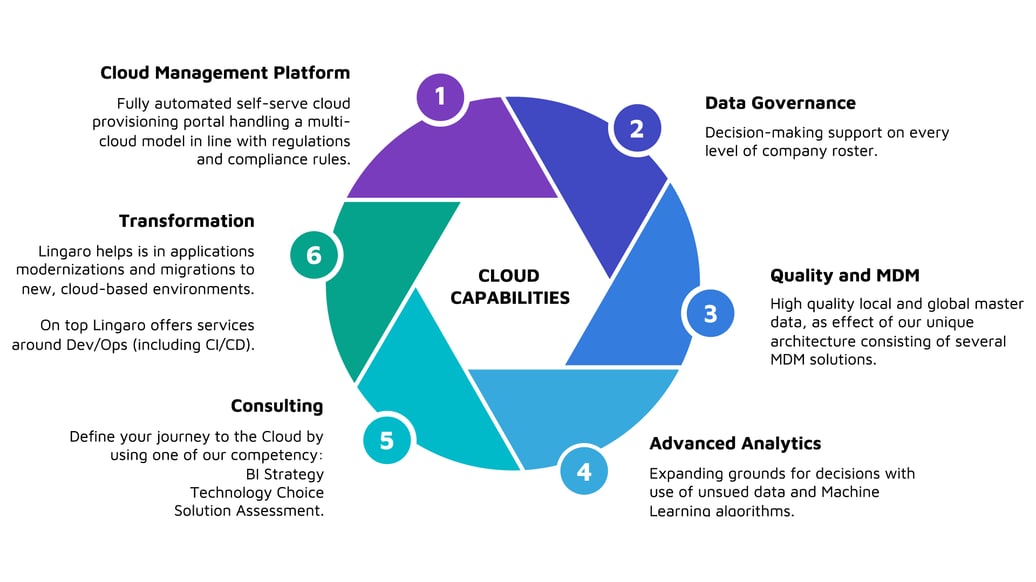 Lingaro's Cloud Capabilities
Our working model bases on close cooperation with all key stakeholders to design cloud migration projects that
Include well-defined KPIs

Support effective change management

Help you benefit from the best the cloud solutions the market has to offer
During delivery, we can adjust the solutions and data structures to best meet the business users' day-to-day requirements.