International trade

has

been increasing steadily for the past years due to globalization, business fragmentation

,

and consumption growth. Supply chains

have

become more complex, as logistics networks link more and more parties involved in the shipment of products and materials.
Global

C

hanges –

G

lobal

I

ssues
Consumer patterns have also shaped trade as we see it today; freight shipments became smaller and more frequent and emission intensity has increased as a result of not fully filled containers. As freight transport is heavily reliant on fossil fuels, it will take a long time for this to change. This sector becomes one of the most difficult to decarbonize.
The International Transport Forum estimates that international freight emissions, resulted from trade, account for 30% of all transport related emissions and more than 7% of global emissions.

Zoom

ing

in on Scope 3 Emissions
However, if we are speaking of CO2 emissions, generated from freight operations, those emissions are usually not owned by companies, as enterprises are just buying these services from the carriers and so on. Therefore, technically a CPG company should not report these emissions on their sustainability report and disclose this information to the investors and the public. The emissions generated from company operations are considered Scope 3 emissions.
Below is a recap of emission scopes and how to differentiate them according to the GHG Protocol:
Scope 1: Direct emissions from owned or controlled sources.

Scope 2: Indirect emissions from generation of purchased energy electricity, heat, and steam.

Scope 3: All indirect emissions (not included in scope 2) that occur in the value chain of the reporting country, including both upstream and downstream emissions.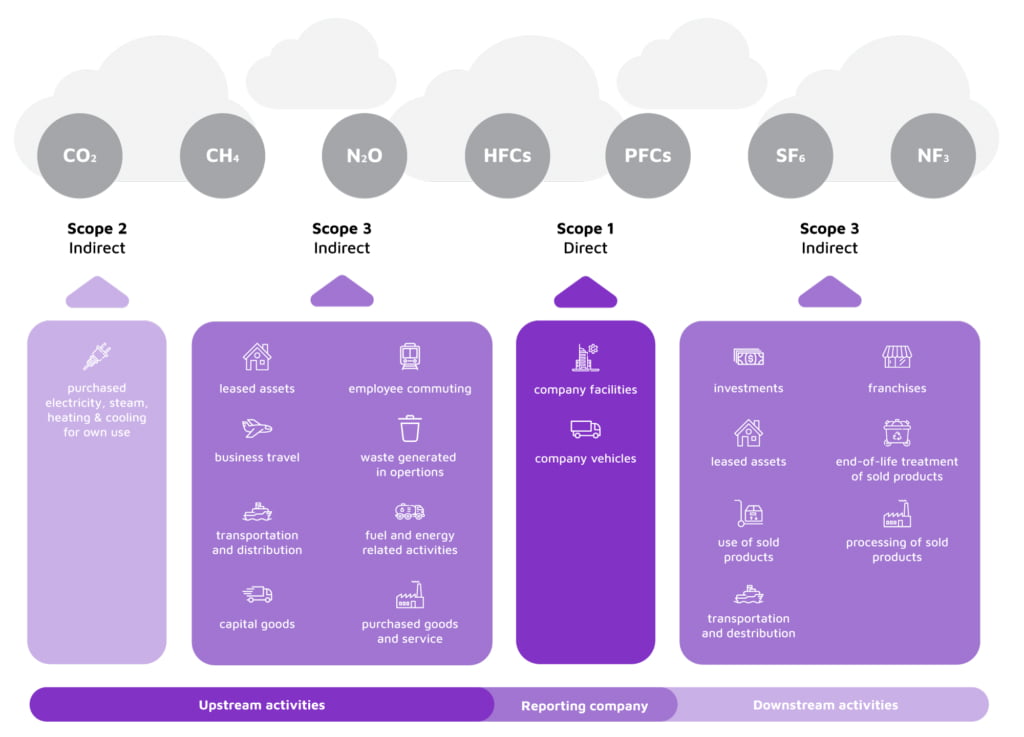 The data confirms that over a third of the largest corporations by market cap do not report Scope 3 emissions.  
Yet, when we look at Scope 3 emission numbers, they contribute to 40% – 97% (depending on the industry) of total emissions derived from company operations. That is a huge number that gives food for thought for many of the emissions that companies still under report.
Since companies worldwide are transitioning to more sustainable business operations, including sustainable practices of the carriers, reporting Scope 3 emissions will help the organization to align with its sustainability goals, measure emissions outside of its view, and differentiate carriers by the emissions generated.
How

D

ata

A

nalytics Can

M

ake the

C

hange
One may think that reporting Scope 3 emissions does not have any business value. That they are just numbers on the report, until you start doing deep-dive analysis.
One real life example of such insightful analysis was presented by the MIT Center of Transportation & Logistics. They have done maritime emissions analysis of one company which ships lots of goods from Asia to Europe using carrier services. When MIT started analyzing their shipment register and looked at the yearly emissions data, they found out that one ship in particular was responsible for more than 50% of their yearly emissions, while for other ships the distribution was split equally. The outcome of this story was that the company took off their goods from that ship and significantly decreased their emissions.


This is just one of the categories in the Scope 3 emissions which was addressed. There are a total of 15 categories, such as:
Purchased goods and services,

Upstream transportation and distribution,

Waste generated in operations,

Use of sold products, and others.

We now see that more and more organizations have started stepping into sustainability. Many are yet to understand how to use their data for the benefit of the company's path to managing a more sustainable supply chain.
If your business is still struggling to get a hold of Scope 3 emissions in Transportation, we can help you to identify the data, automate and measure the most important KPIs which are in line with your company's needs. Lingaro has delivered successful implementations of CO2 emission calculations and created insightful reporting with detailed deep-dive analysis.