Online shopping is currently more complicated than ever, with customers often embarking on complex multi-platform journeys when making a purchase. Businesses need to keep up, especially when it comes to consumer analytics. More so now than ever because in July next year, Universal Analytics will be phased out by Google, and replaced by Google Analytics 4.
What's happening and why?
Universal Analytics (UA) and Universal Analytics 360 (UA 360) are being phased out in 2023 to be replaced by Google Analytics 4. This is in order to better address the cross-channel future of online measurement whilst still respecting user privacy. The critical dates that brands should be aware of are:
1st July 2023 - UA will cease to register new hits[1]
1st Oct 2023 - UA 360 will stop tracking hits and all historical data will only be available for a further 6 months[1]

Whilst it's been around since 2020, it must be recognised that Google Analytics 4 is not an upgrade to UA and UA 360, but a completely different tool that marketers will need to get used to. Brands shouldn't wait until next year if they want to have consistent year-on-year reporting from their digital properties. They need to act now and start using Google Analytics 4, most likely in tandem with the existing protocols. As can be seen from the chart below published by Mediaocean[2] , 57% of marketers consider that improved measurement centred on non-cookie methods such as Google Analytics 4 will have a huge impact on their advertising activity.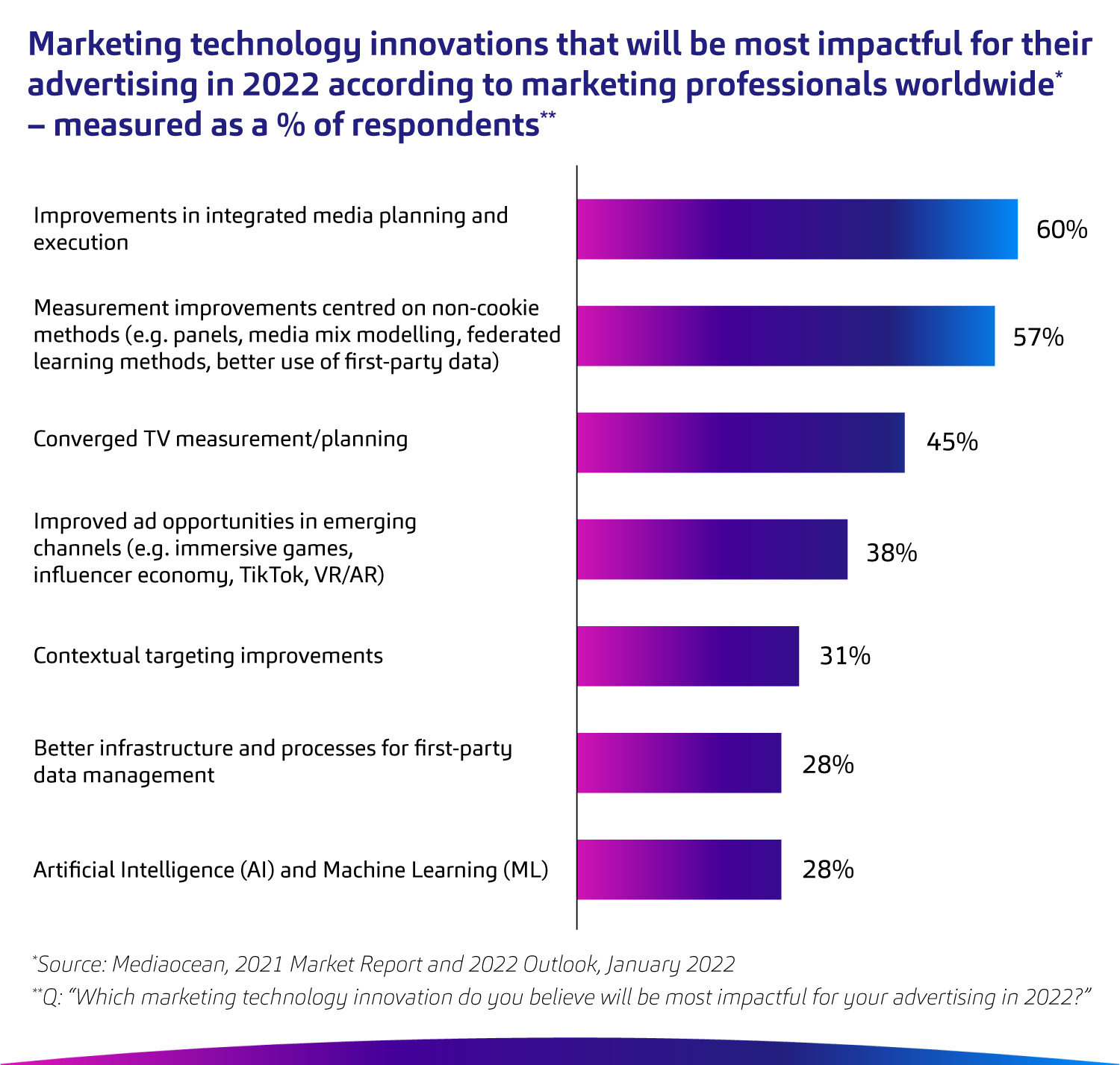 Where does data sit in terms of advertising importance? Image source: Mediaocean
The pros and cons of Google Analytics 4
There is no question that new tools to track consumer habits across multi-platform journeys are needed, and Google Analytics 4 (GA4) appears to do this as well as offering some new benefits. However, there are also some drawbacks that brands need to be mindful of.
GA4 is a more forward-looking tool that works well across all platforms and tracks data across websites and apps. It doesn't need cookies. Instead, it measures insights using an event-based data model, whilst not maintaining IP addresses in order to comply with privacy laws.
One big advantage is that it doesn't just record the last click. It provides an overview of the complete customer journey towards a sale conclusion, irrespective of the platforms used. This means that brands can create funnels to see and analyse detailed pathing.
And the cons? The main drawbacks are that GA4 provides less standard reports than its predecessors, so marketers will need to create custom reports for basic, common use cases. Another unpopular feature is that custom reports can only go back as far as 14 months in the free version of GA4, making them useless for longer term trending and analysis.
How eBusiness Institute can help
As you may expect, we are ahead of the game and ready to help guide brands through the transition from UA to GA4. There is no doubt that most brands will see a massive need for training on GA4 as it is a completely new tool that looks and feels totally different to anything used currently. We have developed tailored solutions to help marketers take immediate action and implement GA4 to maintain a consistent level of YOY reporting. This should be followed up by an evaluation of skills and training required to cover the differences between UA and GA4. By providing this training and support, we are helping brands to remain future-proof.
In conclusion
Google Analytics 4 will, ultimately, prove to be a good opportunity for brands to ensure they are aligned with market trends and ready to collect and use data as part of their growth strategies. They must not delay, and need to start migrating to GA4 now in order to be fit for purpose when UA and UA 360 get turned off next year.
Don't delay. Start your transition now!
To discover more about this important event and find out how we can help with your transition and associated training needs, contact us below.
Sources
[1] https://www.emarketer.com/content/google-announces-deprecation-of-universal-analytics-move-toward-google-analytics-4
[2] https://info.mediaocean.com/rs/331-XPM-231/images/Mediaocean_Market_Research.pdf