The 2022 Gartner Peer Insights 'Voice of the Customer': Data and Analytics Service Providers report has recognized Lingaro as a "Strong Performer". The report, which is based on strictly validated and moderated user reviews contributed to the Garter Peer Insights platform, consolidates and curates user reviews and customer experience and categorizes eligible vendors into four quadrants.
The Gartner Peer Insights report gives enterprise IT decision-makers with an effective resource and snapshots of the capabilities of service providers to help with data-driven digital transformation.

The companies that were recognized in the report meet or exceed the market average "overall rating" and the market average for user interest and user adoption. Gartner defines data and analytics services as "consulting and system integration and managed services," which includes managing and analyzing data to "drive business processes and improve business outcomes through more effective decision-making."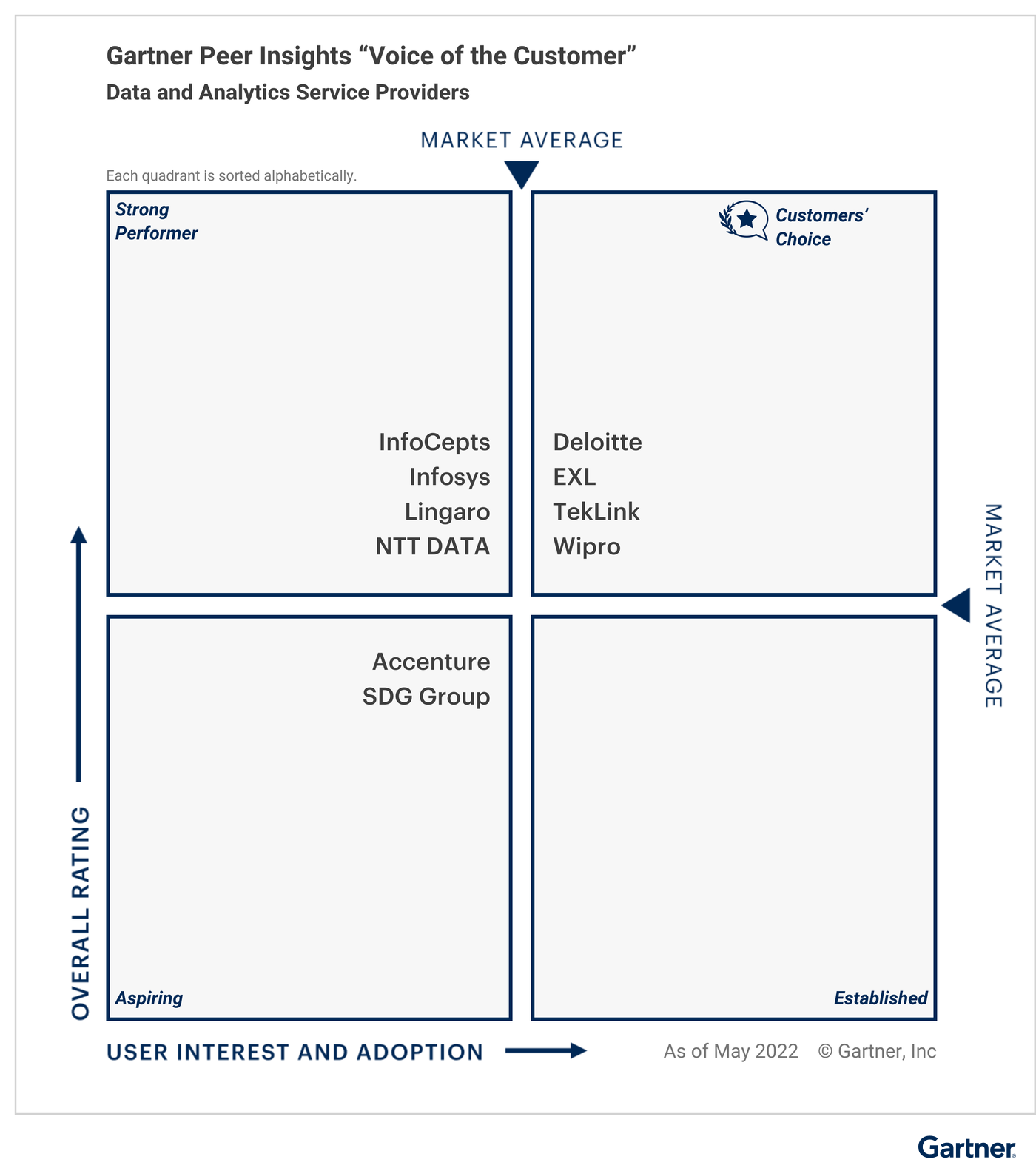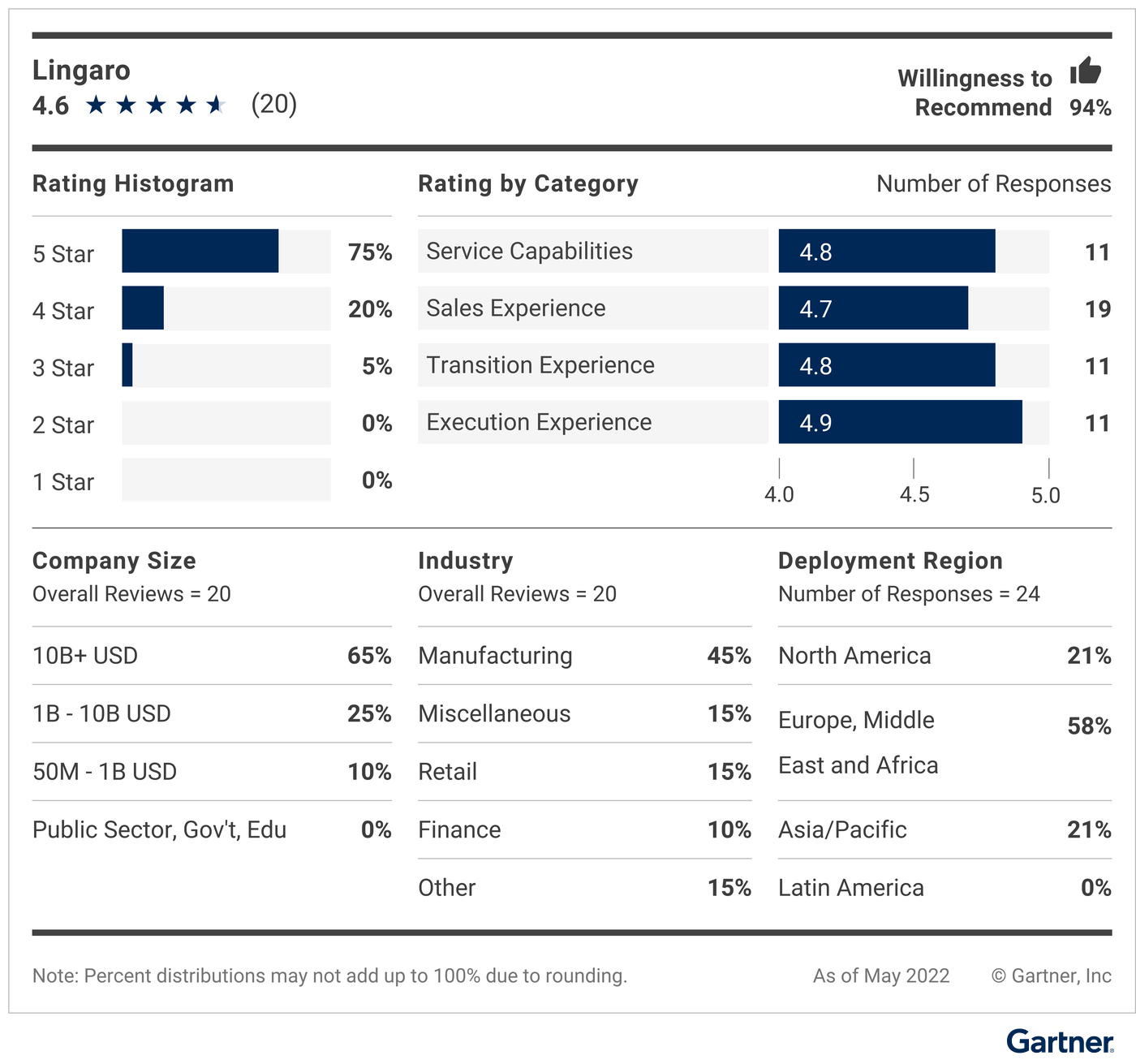 The quadrants for 2022 Gartner Peer Insights 'Voice of the Customer' for data and analytics service providers (left) and a summary of Lingaro's ratings (right)


Lingaro scored a 4.6 overall rating (as of May 2022), with high scores on service capabilities, sales experience, transition experience, and execution performance. The deployment regions included North America, Europe, Middle East, Africa, and Asia Pacific. Lingaro also scored 94% among business users for their willingness to recommend Lingaro to other organizations.
In one of the recent reviews made by an enterprise in the banking industry, they cited Lingaro as a "key partner" for developing and delivering their services: "Partnering with Lingaro allows us to scale fast and flexibly maintaining high level of quality. Services delivered by our partner to us are being very well managed and constantly monitored in terms of quality and budget. Lingaro proved itself as a reliable partner capable of fast addressing of changing requirements."
A consumer-packaged goods (CPG) enterprise also noted Lingaro's capability to deliver at scale through an agile and customer-focused approach: "Lingaro proved over the last 2.5 years that they have a full variety of skills and experience in data & analytics and related fields. We have often reached out for support outside of our core agreement (Power BI services), and they have always been able to quickly mobilize relevant staff to meet and listen to our needs and coming back with a proposal of solution. We have never heard from them 'impossible', regardless of technology we'd be asking for, or type of engagement (e.g. delivery, training, support, etc.)."
We believe this recognition from the Gartner Peer Insights platform is a testament to the best-in-class capabilities of our business and technology experts and the seamless customer experiences that we provide to our clients in their journey toward data-driven digital transformation. We believe that It's also a reflection of one of our core values as a company — going the extra mile to exceed our customers' expectations while fostering collaboration built on trust.
To read more about user reviews of Lingaro, visit Lingaro's profile on the Peer Insights platform.
Gartner disclaimer: GARTNER and PEER INSIGHTS are the registered trademarks of Gartner Inc., and/or its affiliates in the U.S. and/or internationally and have been used herein with permission. All rights reserved. Gartner Peer Insights content consists of the opinions of individual end users based on their own experiences with the vendors listed on the platform, should not be construed as statements of fact, nor do they represent the views of Gartner or its affiliates. Gartner does not endorse any vendor, product or service depicted in this content nor makes any warranties, expressed or implied, with respect to this content, about its accuracy or completeness, including any warranties of merchantability or fitness for a particular purpose.